In April 2021, Tamil singer-composer Kaber Vasuki's 2012 demo version of a song called Vasanam sold at an international NFT marketplace for 50 Ethereum coins, which at the time of sale was estimated to be a whopping Rs1.5 crore. This sale ignited a hope in the hearts of many regional artists from India for putting their music on the global market in the form of NFTs.
While mainstream music artists like Neha Kakkar, Raftaar, Bohemia and Sonu Nigam have made waves with their exclusive NFT series launches, regional artists have also ventured actively into the zone now. Take Telangana-based rapper Varun Rao Mandalika's case for instance. Varun aka Hyderabadi Chora, raps in seven different Indian languages, and sold out his first series in the first two hours of going live. "There is an increased interest in finding art that is unexplored and hatke. My series was in Sanskrit and it had Tamil rap too, which highlights ancient Indian culture. I'm sure buyers want to collect such niche music," says Varun.
'Artists are investing in artists'

Nehha Rajpal, a popular Marathi singer, has also put out many devotional songs as NFTs. She tells us, "Language transcends boundaries when the vibe and soul of music resonates with people. For regional artists it may be hard to crack the India market, but they get more popularity globally, including Spanish and Australian listeners," she says.
Local artists have started listing their NFTs on platforms like OpenSea and Foundation since early 2021. "From a regional perspective in India, interest in NFTs is more from sub-regions like Goa, Maharashtra, the Northeastern states, and Delhi. Creation of NFTs has grown by leaps and bounds in the last one year," shares Amit Nayak, CEO and co-founder of Sahicoin, a cryptocurrency platform. A similar trend has been noted by the WazirX NFT marketplace where most of these artists have put up their work. "The artist community is introducing regional artists to the infinite possibilities that the NFT market offers. In short, artists are investing in artists," says Vishakha Singh, VP and co-founder, WazirX.
A place for rightful gains

Most of the regional artists who are investing in blockchain technology are happy with the equal opportunities that the space presents, without giving in to interference of any music label or agents. Nehha, who has been in the music industry and television for decades throws light on this. She says, "Many musicians don't get their due as many music labels do not pay royalty to them and artists are governed by their policies. But on this platform, you get paid directly, and also get a percentage when your work is sold at a secondary market. To have your work exclusively collected by someone and also get value for it, that's what drew me to NFTs," says Nehha. She also adds the investment costs, which are on the higher side, also get shared with collaborations.
Consistency is the key

Artists and NFT marketplaces agree that if an artist has appeal in the real world, it helps with their virtual identity too, resulting in better sales. "There is certainly a discovery gap around regional NFTs- on how to create, mint, and sell NFTs," observes Amit. Varun is quick to add that while the demand is growing for regional music in the space, maintaining the vibe is posing to be a challenge. "I've seen a lot of artists gradually fizzling out. So, consistency works better. It helps if your music does well in other spaces like YouTube and Instagram too. When people recognize your music, it helps market your art better in the NFT spaces," says Varun.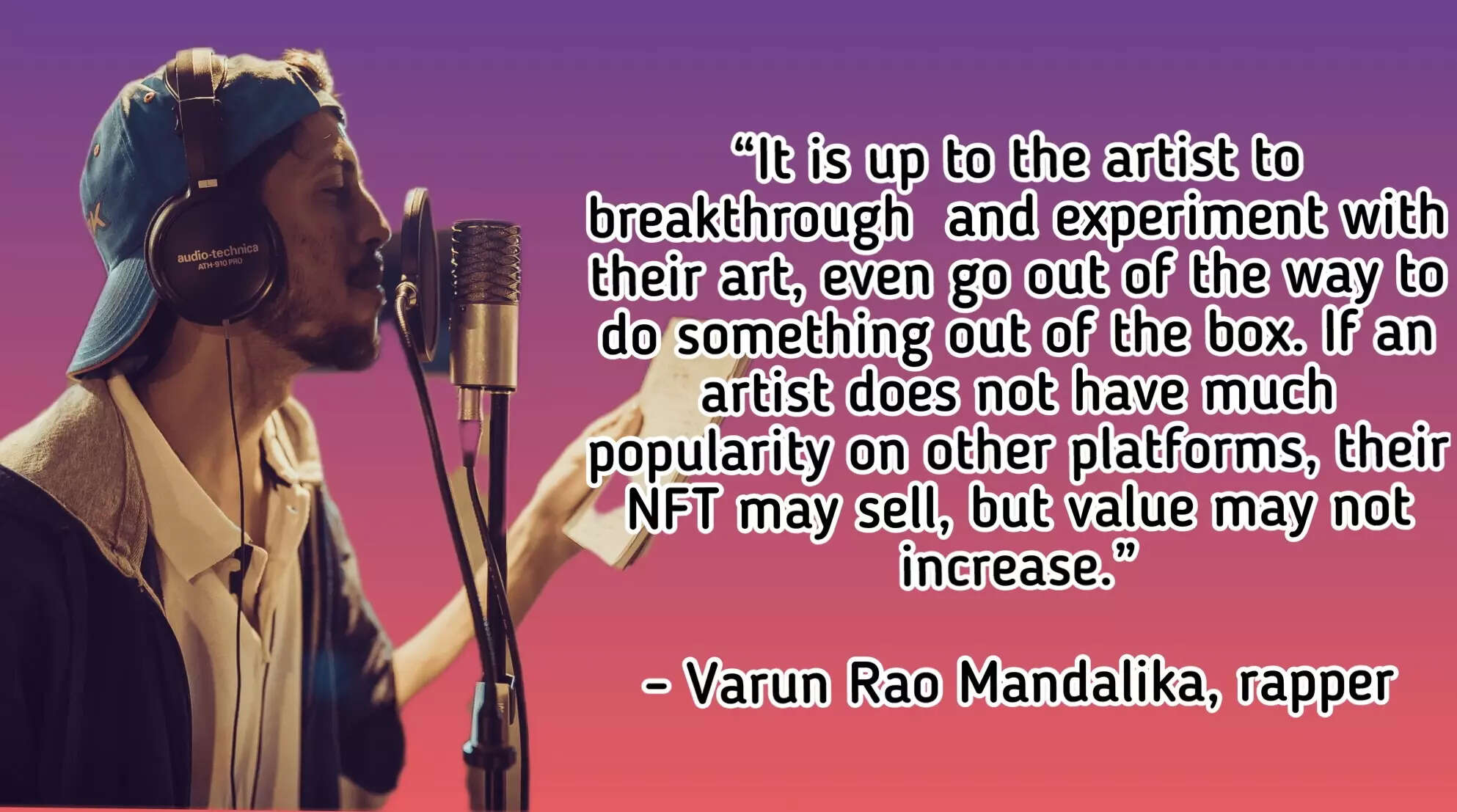 Still a long way to go…

When it comes to the path ahead, artists and marketplaces alike agree that there is a lot of work to be done to put regional music artists on the global map. Rajan Navani, VC and MD of JetSyntheses, an NFT platform, shares, "In India, this is still a very nascent industry. While there is an understanding of what an NFT could be, artists still need to come up with music that NFT collectors would want to buy. Exclusivity and growth of value generally drive the success of an NFT."
Stats say…

– Sales of NFTs reached roughly $25 billion in 2021 globally. Around 28.6 million wallets traded in 2021, up from 545,000 in 2020 – (As per data from DappRadar)

– In India, NFT conversations grew by 3000% between January 2021 to 2022 – (As per Twitter Marketing Trends report 2022)
.